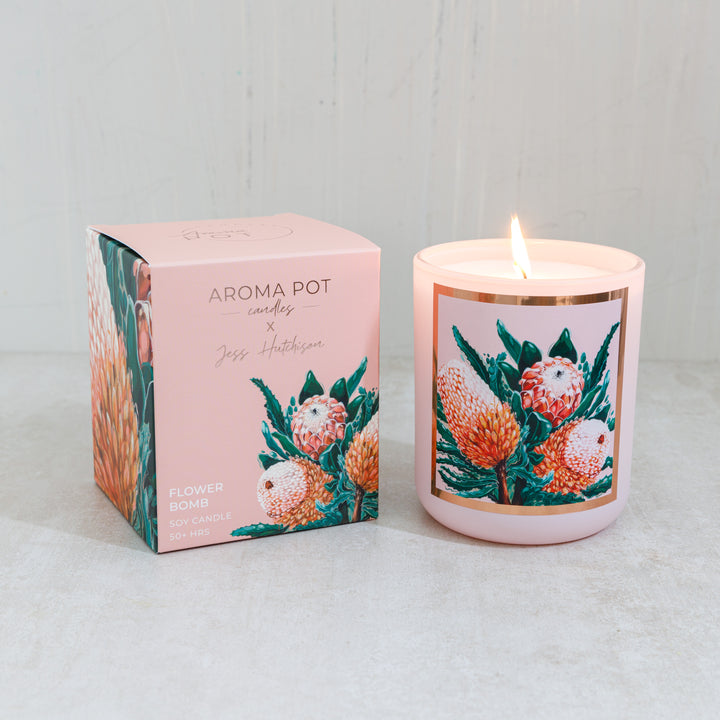 AROMA POT - FLOWERBOMB
Aroma Pot
Available
Regular price
$45.00
Sale
This hand poured Flowerbomb soy wax candle is the perfect addition to flowers for mum.
This limited release candle is perfect for the perfume scented lovers ... especially Viktor and Rolf perfume lovers. Its been lovingly handcrafted in our home studio on the edge of the Barossa and paired with this striking bankisa artwork by Australian artist Jess Hutchison for a unique look. With over 50 hours of burn time, this candle will be a long lasting delight to your senses.
TOP NOTES:  Bergamot + Black Tea
MIDDLE NOTES:  Jasmine + Rose
BASE NOTES:  Patchouli + Orchid 
Dimensions:

 
10
cms high x 8cms wide
Ingredients: Soy wax blend, Cotton wick, premium fragrance
The candle is made of soy wax with a cotton wick poured into a matte black vessel. The candle will burn for 50+ hours.
This scent is a fresh green herbal notes combine with eucalyptus, lemon and sandalwood to create this unique Australian fragrance